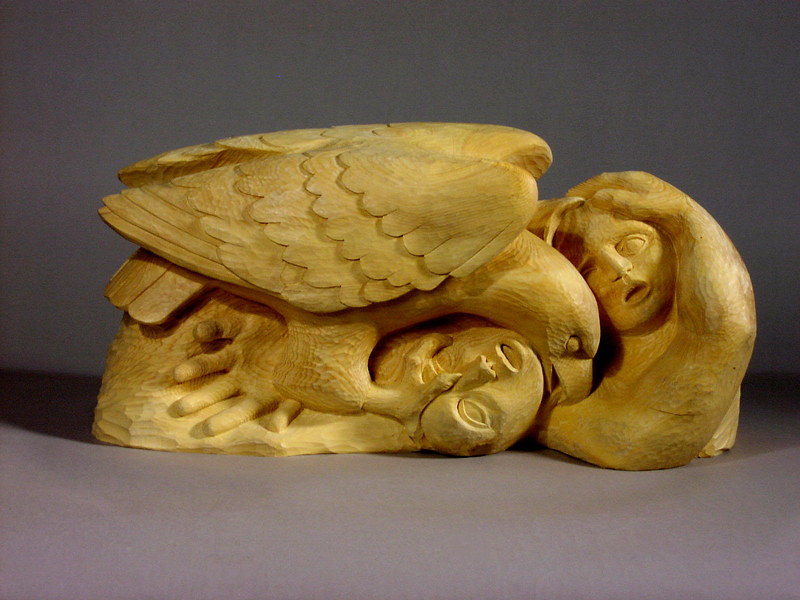 From "Paul Reiber: Mythmaker in Wood," an article by Peggy Templer in Mendocino Arts Magazine

For nearly forty years Paul Reiber has been on a journey, evolving from student of Greek mythology to wood carver, fine furniture maker and wood sculptor. All along the way his work has revealed a continuous thread, incorporating and refining the ideas, designs and sensibilities he acquired early on.
Paul grew up in an "artistic/intellectual milieu" outside of Washington, D.C., where the wealth of museums and galleries, as well as trips to Europe, sparked his interest in art, particularly sculpture.
Paul attended Boston University and studied Greek and comparative mythology. In the early 1970s, he came to the Bay Area to attend Star King School for Religious Leadership. As part of his theological studies he enrolled in a class in Totems taught by a Jesuit trained in the European tradition of woodcarving. The teacher brough a large block of wood into the classroom and worked with the class to identify a group totem and realize it in wood. The challenge of translating his intellectual understanding of a theological concept into a physical form captivated Paul. By this time Paul had realized that religious leadership was "not his thing," but the wood carving aspect of the Totems class definitely was. It played right into his lifelong desire to be working with his hands. This introduction to wood was a turning point in his development as an artist. Although he had been drawing and painting since childhood, until the he had not really understood the great power that lies in "Making." ….
See the PDF of the whole article by Peggy Templer in Mendocino Arts Magazine here.